The Crystal Warrior (Book 1)
A career-focused dancer who's sworn off men. A cursed warrior on borrowed time.
Chalcedony—Chalcey—is dragged out clubbing by her man-hungry best friend, but the disastrous evening takes a sinister turn when a man follows her home. Chalcey is no delicate flower—she's perfectly capable of dealing with guys who won't take 'No' for an answer—so she's not impressed when a hot, leather-clad stranger intervenes to 'save' her, and then kisses her like there's no tomorrow. That kiss rocks her world. But Chalcey's priority is the imminent launch of her new dance studio and a guy like Wulf sure doesn't feature in those plans. Not to mention all that woo-woo stuff about crystal warriors and curses and other worlds—which is sheer fantasy…. Right? But Wulf is not giving Chalcey up without a fight. And then, before either of them fully comprehends the stakes, time runs out and his life is in her hands.
Will Chalcey admit her true feelings and find a way to break Wulf's curse before it's too late?
If you like books with high stakes and laugh-out-loud moments, sassy heroines and hunky alpha males, you'll love this first book in The Crystal Warriors series.
Get the eBook now from your favorite retailer!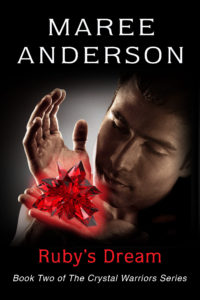 Ruby's Dream (Book 2)
A plus-sized woman who's been hurt one time too many. A crystal warrior who believes himself unworthy of a woman's love.
Ruby's plus-sized, boyfriend-less, and turning thirty. And, just her damn luck, she even manages to break the least humiliating of her birthday gifts—a piece of kyanite crystal. Her birthday bash is interrupted by the arrival of the most beautiful man she's ever seen… who only has eyes for Ruby. Wow, best birthday gift ever! Of course Kyan's a stripper, so all that attention is a calculated lie designed to make the birthday girl feel good. Because a man like Kyan couldn't possibly be attracted to someone like her…. Right? Kyan can't figure Ruby out. She's sexy and desirable, but she absolutely refuses to see herself through his eyes. Worse, she keeps pushing him at other women. But he's got plenty of time to convince her that he means what he says…. Or does he?
Will Ruby risk her life to save Kyan from his fate?
If you like believable, lovable heroines, strong but vulnerable heroes, and the road to happy-ever-after salted with hilarity and heartbreak, you'll love this second book in The Crystal Warriors series.
Get the eBook now from your favorite retailer!
Jade's Choice (Book 3)
A talented young artist whose dreams have been crushed. A crystal warrior who'd rather die than be condemned again.
Jade's so desperate to provide for her chronically ill younger sister that she's willing to sell her body for the money they need. Her very first client is the crystal guardian, and before Jade knows what's what, she's locked in the hotel room with Malach, the crystal warrior destined to be her life-mate. Malach is a complex, compelling man, and as they work together to free themselves from the bespelled room, he captures Jade's heart. But Malach doesn't believe his curse can be broken and has resolved to take his own life rather than face the hell of the crystal again. Jade refuses to give up on him. And when she learns of Francesca, the woman who rejected Malach decades ago, Jade sets about tracking her down. All they have to do is pass the Crystal Guardian's test, and then Malach can be with the woman he loves. Easy peasy, right? Except Jade has finally realized that she doesn't want to give Malach up.
Will Jade let Malach go, or risk everything for a chance at the love they both deserve?
If you like courageous heroines willing to sacrifice everything, tormented alpha heroes who don't believe in second chances, and unexpected twists that leave you on the verge of tears, you'll love this third installment of The Crystal Warriors series.
Get the eBook now from your favorite retailer!
The Crystal Warriors Series Bundle (Books 1, 2 & 3)
Bundle contains:
The Crystal Warrior – Chalcedony & Wulfenite's story
Ruby's Dream – Ruby & Kyanite's story
Jade's Choice – Jade & Malachite's story
Get the eBook now from your favorite retailer!
Opal's Wish (Book 4)
A damaged young woman hiding from a terrifying past. A warrior struggling to make sense of an alien world….
When eight-year-old Sera accidentally frees Danbur from his crystal and bonds with him, neither Danbur nor the Crystal Guardian have the faintest idea how to resolve this mess. Since Danbur now has no chance to break his curse, in the weeks remaining before the crystal takes him again he resolves to protect the little girl – even if it means clashing with her mother, Opal, a damaged young woman who doesn't trust any man… let alone a warrior struggling to make sense of an alien world.
Resisting this complex, compelling stranger is taking all the willpower Opal possesses. And then her past catches up with her, catapulting her back into the media spotlight and drawing the attention of the powerful man who once ruined her life. With Sera in jeopardy, Opal is forced to turn to Danbur, the man she can't bring herself to fully trust. All she can do is hope his claims about his mysterious 'connection' to Sera aren't the stuff of fantasy after all. But what Opal doesn't realize is that the clock is ticking, and Danbur's time is about to run out.
Get the eBook now from your favorite retailer!
Claiming Amber (Book 5)
They took her name and crushed her spirit. And then a cursed warrior stole her heart.
Blamed for the circumstances of her birth, Patience has always failed to conform to the Community's ideals. After she stumbles across a shattuckite crystal, she's shunned for consorting with Shattuck, the man who claims he's been imprisoned in that very same crystal. He spirits Patience away from the only family she's known, exposing them both to a world that neither are equipped to deal with. Their growing bond, and the lies they are forced to tell, only complicate everything.
Patience must find the courage to reclaim her birth-name and realize her true potential.
And Tuck must fulfil the terms of his curse… and survive the havoc wrought by a capricious goddess who is bending all the rules.
Get the eBook now from your favorite retailer!