The Crystal Warriors Series
The Crystal Warrior (Book 1)
Chalcedony and Wulfenite's story
A career-focused dancer who's sworn off men. A cursed warrior on borrowed time.…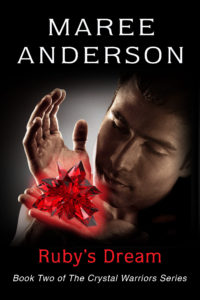 Ruby's Dream (Book 2)
Ruby and Kyanite's story
A plus-sized woman who's been hurt one time too many. A crystal warrior who believes himself unworthy of a woman's love….
Jade's Choice (Book 3)
Jade and Malachite's story
A talented young artist whose dreams have been crushed. A crystal warrior who would rather die than be condemned again….
Opal's Wish (Book 4)
Opal and Danburite's story
A damaged young woman hiding from a terrifying past. A warrior struggling to make sense of an alien world….
Claiming Amber (Book 5)
Amber and Tuck's story
They took her name and crushed her spirit. And then a cursed warrior stole her heart….
---
Angels & Demons Novellas
Even Demons Get The Blues (Book 1)
When a demons falls in love with a human, there's Hell to pay….
Let Sleeping Demons Lie (Book 2)
Felinoid demon vs Lion shifter… a match made in Hell!
---
Kat on a Hot Tin Roof
Workaholic Jake's not looking for anything serious, but all that changes when he encounters Kat… who just happens to be the unwitting victim of a family zodiac curse!
---
Lightning Rider (an Elemental Riders novel)
Andie Brennan dies in a lightning strike and is miraculously healed and brought back to life. But now she's sharing her body with the alien who rode the lightning bolt that killed her.